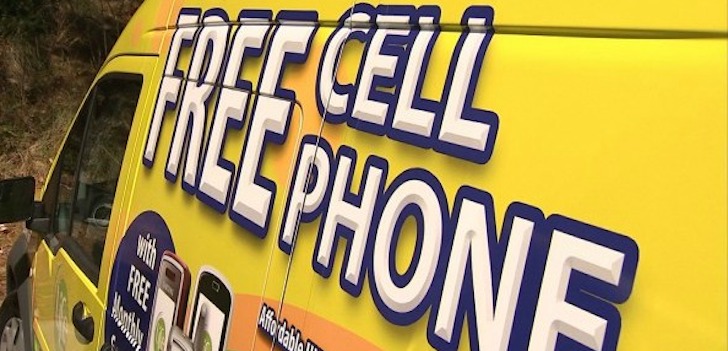 Virgin Mobile, which offers free government cell phones under its Assurance Wireless brand name, has cut off service to an astonishing 1.6 million Lifeline Assistance customers due to new anti-fraud controls imposed by the Federal Communications Commission.
They weren't the only companies to uncover massive fraud among Lifeline customers: The Wall Street Journal reports that AT&T cut approximately 600,000 of its 1.3 million Lifeline customers, Telrite eliminated 20%, Tag Mobile disqualified 33% and Verizon slashed 44%. The degree of the fraud, waste and abuse would undoubtedly have been even more staggering, but the Wall Street Journal reports that two of the larger free government cell phone companies — Safelink Wireless and Nexus (ReachOut Wireless) — petitioned the FCC to shield their reports from public scrutiny.
Killing the goose that lays the golden cell phone
For years we've been on a crusade to eliminate fraud, abuse and waste from the Lifeline Assistance program. We've received reports flagging flagrant abuse of the system and we've repeatedly raged against it. Now the Federal Communications Commission has stepped in and taken drastic action to bring sanity back to the program.
As FierceWireless.com reported, "The government's Lifeline program was created in order to help low-income Americans obtain telecommunications services–those who qualify can get around $10 per month for cell phone service. During the past few years, companies like Sprint and TracFone Wireless tapped into the program with the goal of obtaining new subscribers they could sell additional services to."
While we think that grammatically-challenged description casts the industry in a slightly sinister light, we can't dispute its basic accuracy.
The FCC recognized that the system was rife with abuse and took drastic action in late 2012 by requiring Lifeline Assistance providers to annually certify that each of their Lifeline customers were actually eligible for the program. (Seems like a simple and logical step, but it created havoc — appropriate havoc, we might add — within the free government cell phone industry.)
The Wall Street Journal reports that more than 40% of approximately 6 million Lifeline customers "either couldn't demonstrate their eligibility or didn't respond to requests for certification."
We congratulate the Federal Communications Commission and the steps it's taken to rein in abuse in the Lifeline Assistance program. It's about time. Everything you've done to restore integrity to the free government cell phone program deserves applause from every right-thinking American who supports the program and everything it does for low income Americans.
The communications watchdog reports that its new regulations and requirements resulted in savings of nearly $215 million last year and that the requirements may save as much as $2 billion in the next few years.
So let this be a warning to anyone thinking about rigging the system: The FCC is watching. The free government cell phone companies are watching. And FreeGovernmentCellPhones.net is watching, too.