When you think of the free government cell phone program, what company comes to mind? Probably Safelink Wireless, and for good reason.
Safelink, a subsidiary of prepaid wireless phone company Tracfone, was the first company approved to provide cell phones to the low-income and otherwise needy in the United States under the federal-mandated Lifeline/Link-Up program. They got a huge head start in the business and now account for almost four million of the over six million total free mobile phone recipients.
Safelink undisputed leader, but Assurance is gaining rapidly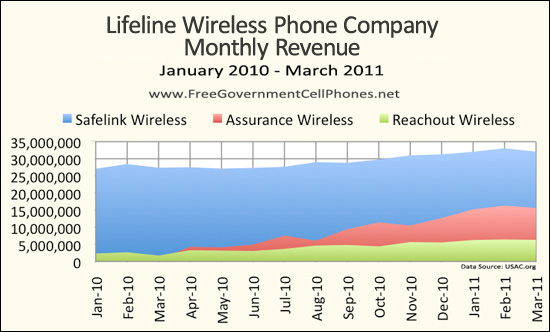 But the competition is heating up, with fast growing Assurance Wireless, a subsidiary of Sprint/Nextel's Virgin Mobile, hot on the heels of Safelink. And behind Assurance is ReachOut Wireless, a Nexus Communications company. Dozens of other smaller companies serve a state here and there, but are too small to warrant our attention at this point.
We've asked each of the big three for their subscriber numbers, but they declined to reveal that information, saying those figures were confidential. Our solution? We scoured through reams of data, and calculated the numbers for ourselves. We begin with the total revenues from the Lifeline program for the month of March 2011.
Lifeline Wireless Phone Revenue for Month of March 2011:
| | |
| --- | --- |
| Safelink Wireless: | $32,079,925 |
| Assurance Wireless: | $15,620,447 |
| ReachOut Wireless: | $ 6,303,750 |
The government pays each of the three companies for each subscriber, for each month of service. There are three tiers of payments (four if you include a much larger fourth tier for those on Indian land) and it's difficult to know which tier each of the subscribers fall into. We will use an average of $8.50 per subscriber across the country and will use this to estimate the number of subscribers for each company as of month ending March 2011.
Lifeline Wireless Phone Company Subscribers, March 2011 (est.):
| | |
| --- | --- |
| Safelink Wireless: | 3,774,109 subscribers |
| Assurance Wireless: | 1,837,700 subscribers |
| ReachOut Wireless: | 741,618 subscribers |
These numbers show Safelink Wireless is the undisputed leader with roughly twice as many subscribers as Assurance Wireless, which in turn has more than twice as many subscribers as ReachOut Wireless.
The ranking is exactly what we would have predicted, but the important question is how are the three companies trending?
The answer? It's trending in favor of Assurance Wireless in a very big way.
Assurance didn't get into the free cell phone business until early 2010, so it would be an unfair comparison to calculate growth rates from that point since any jump from zero would show stratospheric numbers. So we've calculated subscriber growth for the last three months of data available: January through March 31, 2011. Assurance Wireless already had about a 1.5 million subscribers at the beginning of the year, so that allows us to do an apples-to-apples comparison of growth rates. And here you go:
Lifeline Wireless Phone Subscriber Growth Rates 1/1/11 – 3/31/11
| | |
| --- | --- |
| Assurance Wireless: | 23.18% |
| ReachOut Wireless: | 13.66% |
| Safelink Wireless: | 2.47% |
As you can clearly see, Safelink Wireless still holds the lead. But the lead is narrowing with Assurance Wireless' high growth rate. Some states have Safelink as their only choice, and the other two players are working to compete in them. Once in, their growth should accelerate.
People Googling Assurance at 4X the rate of Safelink
There's yet another clue pointing to Assurance's rapid growth: Google searches for each of the three competitors. We used what's called the Google Keyword Tool to check the number of "exact match" queries for each company. The numbers are astounding.
Queries for the Lifeline Wireless Phone Companies:
| | |
| --- | --- |
| Assurance Wireless: | 74,000 |
| ReachOut Wireless: | 18,100 |
| Safelink Wireless: | 8,000 |
(Note: For ReachOut Wireless, we added together the results for both "ReachOut Wireless" and "Reach Out Wireless.")
The Future
The Google search numbers, plus the documented growth rates, leads us to the conclusion that there may well be some interesting changes on the leaderboard over the coming months.
We'll keep you abreast of this changing data each month, so check back often. Bookmark our site, and subscribe to our feed either with email delivery or via RSS.